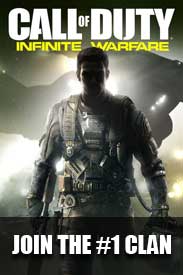 CAG (Combat Applications Group) the #1 clan on XBOX 1 and PS4 is getting ready to recruit for the upcoming COD 1st Person Shooter COD: Infinite Warfare and the remastered version of the fan favorite Call of Duty 4: Modern Warfare.

As usual clans from all over the world are putting together their best recruiting campaigns to draw in the best players, male and female to join their clan. Every year recruiting becomes a very important and crucial component for the success and development of clans. CAG has proven to be one of the elite clans in existence today when it comes to recruiting and developing every day players into leaders.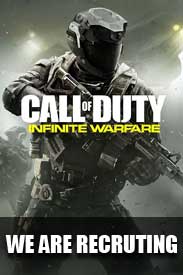 One of the main reasons for CAG's success in recruiting is the proven clan structure it has in place. Recruits are given many opportunities from the minute they submit their application to join.
Call of Duty: Advanced Warfare and Black Ops 3 were major disappointments due to the direction Sledgehammer Games and Treyarch decided to go in by making both games more futuristic than "boots on the ground" which was the main reason Call of Duty took over and dethroned previous shooters like Ghost Recon, Rainbow Six and SOCOM: Navy Seals.
Many clans as well as CAG saw a decline in member retention due to the futuristic setting of both Advance Warfare and Black Ops 3 which made it difficult to play as a clan due to the high paced action. Most clans play in a very organized manner which includes setting up and waiting for the enemy to come to them instead of running around as lonewolves.
Call of Duty: Infinite Warfare is expected to be another challenging game to recruit for due to it's futuristic setting. But clans will received some help from Call of Duty 4: Modern Warfare Remastered included with the purchase of COD: Infinite Warfare which fans of good ole' "boots on the ground" will be happy to play once again.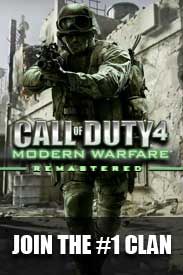 CAG plans on recruiting heavily for both Infinite Warfare and Call of Duty 4 both on the XBOX One and Playstation 4. The recruitment process will remain the same as always and recruits will have every opportunity to move up in rank as well as help in the development and success of CAG.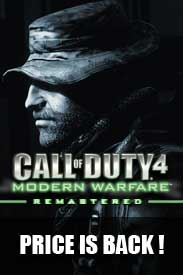 CAG still considers itself the #1 clan regardless of what others may say. CAG has lasted 16 years something which very few if any other clans can say about themselves.
So if you are looking for not just another clan but a Family of gamers which helps each other out look no further. CAG hasn't lasted this long for nothing, it treats all it's members as Family as long as they respect each other and represent CAG in a professional and mature manner. CAG treats everyone with respect regardless of whether they are part of the clan or not. CAG doesn't trash talk or puts anyone down, building strong friendships and relations with other gamers is paramount to the clan.
CAG is not for everyone and the recruitment process will help you determine if you are a good fit for CAG and vice versa.
So don't waste any time and register, fill out an application and start your journey towards becoming a member of the #1 COD Clan around. Prepare yourself for the best gaming experience you can find in a clan as clan when you play with and as a member of CAG.
CAG makes no excuses and accepts none either. You win as a team and you lose if you're not ! CAG holds all its members to the highest standards and will not tolerate anything less.
Connect with me on Google+