Written by CAG CheechDogg Sunday, 19 November 2017 03:23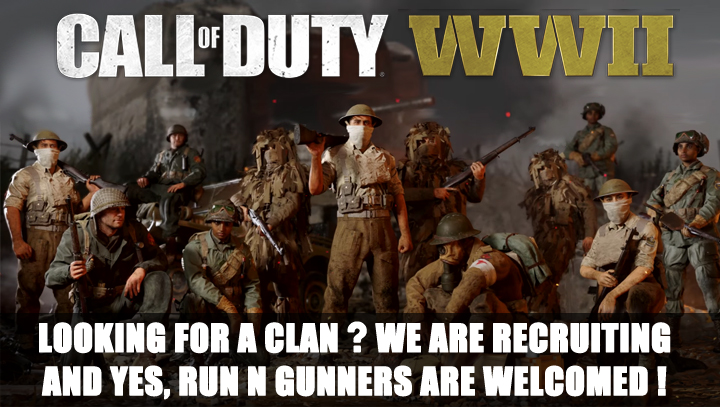 We are an XBOX ONE COD WW2 Clan that is currently recruiting not only players who are tactical but Run N Gunners as well. Recruiting for COD WW2 is in full effect all over the world and if you are tired of getting shot from behind and you like to hold down an area of a map CAG is the clan for YOU!

CAG is also recruiting Run N Gunners who can take over a game at any time. With the wide open maps that are in COD WW2, it is crucial to be able to adapt to any plays style or situation that arises during a game by the other team. In recent years COD has really emphasized high paced gameplay almost completely doing away with the slow paced tactical playing that the older generation is used to from shooters.

COD WW2 still allows for well organized and disciplined clans to hold down almost any area of every map in the game, but the low height of structures in some maps makes it difficult to do so because players can easily throw grenades and other explosives over them. Some maps allow for medium to long distance firefights just as long as there are at least two teammates who can handle high paced action in close quarters and in the wide open.

Snipping in some of these maps is just a thing of beauty, really allowing you to get deeply immersed in high intensive firefights. Close Quarters Combat is also very intense and when you are part of a clan who always has a strategy and the right tactics, you can easily dominate the other team withing minutes.

CAG has used defensive strategies that force the other team to think they can attack but instead run into an ambush while simultaneously are attacked from behind, two tactics known as "Hedgehog defense" and "Hammer and Anvil" respectively.

If you like to kick serious ass in public lobbies against randoms or against other clans join CAG. We have proven ourselves over and over and consider ourselves one of the best if not THE best clan around. We have the right people to lead you during games and we are looking for the right people to help us do so as well. DO YOU HAVE WHAT IT TAKES ?