Written by General Tuesday, 22 June 2010 00:00
Ranking in CAG as of October 11, 2013
The following is one way that casual and hardcore gamers can rank up in CAG. Other ways can be found in the
Chain of Command
. These weapon badges must be earned in the following order
Marksman: Qualifying only as a Marksman will result in the recruit receiving the rank of Private 1st Class and makes him/her eligible for fireteam leader
Sharpshooter: Qualifying as a Sharpshooter will result in the recruit receiving the rank of Lance Corporal and makes him/her eligible for squad leader
Expert: Qualifying as an Expert will result in the recruit receiving the rank of Corporal and makes him/her eligible for platoon sergeant, drill instructor or recruiter training
As of October 11, 2013 this goes into effect.
To rank higher than Corporal "ALL" requirements set in the Chain of Command for each rank must be met, i.e., to get promoted to Sergeant each clan member must have a minimum of 400 posts on the forums, must have 4 months minimum in the clan and must have already obtained their Expert's Weapon Badge
For all Members of the COD Brigade the Weapon Badges will be earned during actual game play. Hardcore/Core Team Deathmatch will be used to earn these Weapons Badges and the following requirements need to be completed to earn each:
NOTE
All the Entry Weapon Badges may also be done on Core, the requirements however are doubled, i.e., the Marksman on HC is 15 kills and no more than 10 deaths 5 times, on Core it would be 15 kills and no more than 10 deaths 10 times .... Only primary weapon kills are allowed.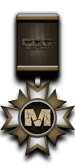 Marksman Badge
1. Choice of AR, SMGÂ  or LMG and loadout
2. Must have at least 15 kills and no more than 10 deaths 5 times
3. No team kills are allowed
4. No killstreak rewards allowed or explosives
5. Must be paired off with a FireTeam or Squad Leader to confirm requirements are met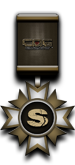 Sharpshooter Badge

The Sharpshooter Badge is the 2nd level and will be more of a challenge to earn. Hardcore Team Deathmatch will aso be used to qualify for this Badge and the following requirements need to be completed 5 times:

1. Choice of weapon and loadout

2. Must have 15 kills and no more than 5 deaths

3. No killstreak rewards allowed

4. No team kills are allowed or explosives

5. Must be paired off with a Fireteam or Squad Leader to confirm requirements are met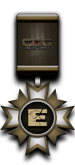 Expert

The Expert Badge is the 3rd level and will be the most difficult badge to earn. Hardcore Team Deathmatch will also be used to qualify for this Badge and the following requirements need to be completed 10 times:

1. Choice of weapon and loadout

2. Must have 20 kills and no more than 5 deaths

3. No killstreak rewards allowed

4. No team kills are allowed or explosives

5. Must be paired off with a FireTeam or Squad Leader to confirm requirements are met